Honda Pilot Service Manuals
---
You can find 1 different repair/service/workshop manuals for the Honda Pilot on this page that are in the PDF format, totally free of charge.
Yearly Pilot Service Manuals
The years available stretch from 2004 through to 2004 and to view the manual you just click the name.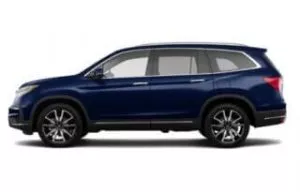 About The Honda Pilot
Production of the Honda Pilot began in 2002 when the Japanese automaker took the Accord platform and put a mid-size SUV body on top.
This led to it becoming a mid-size crossover SUV as it doesn't have the offroad equipment you would typically associate with a traditional SUV.
For customers, this is great as the running costs are much lower thanks to the weight being considerably less.
Buyers also love the abundance of space inside the Pilot body along with a high driving position allowing them to see more at junctions.
Its platform underneath the car boasts independent suspension so that it drives more like a road-going car.
The Pilot is described as being able to handle light offroad tasks and towing thanks to its strong chassis and unibody construction.
It can be purchased as a 2WD or 4WD car so buyers can decide if they really need that light offroad capability or lighter overall weight.
Honda had already had success with using the Accord platform as a base for a larger vehicle when they created the Odyssey compact minivan in the mid-1990s.
The Pilot has been historically sold with just one choice of the engine throughout all of its three generations, a 3.5-liter V6.
A 5-speed automatic transmission was mated to that one engine size during its first two generations and in the third, the company upgraded that to a 6-speed and then a 9-speed.
Originally the Pilot was designed to be sold in just the United States but with the move into its second generation Honda opened it up to new territories including South Korea.
Modern Pilot Models
The modern Honda Pilot boasts technology such as LED lighting all around and comfort features such as heated seats.
It is also packed with driver-aids such as forward-collision-detection and lane-departure-warning – must-haves for modern cars.
Compared to the previous generation this 2016+ Pilot is much lighter than its predecessor thanks to improvements in the strength of the steel and the increased use of aluminum.
Safety ratings are very high and near-perfect thanks to the Accord platform being over-engineered (itself scoring perfect marks across all disciplines when it was tested in 2018).