Honda Element Service Manuals
---
You can find 8 different repair/service/workshop manuals for the Honda Element on this page that are in the PDF format, totally free of charge.
Yearly Element Service Manuals
The years available stretch from 2000 through to 2007 and to view the manual you just click the name.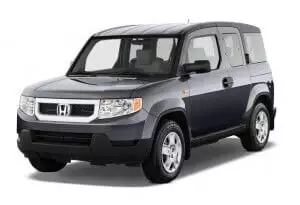 About The Honda Element
In the 2003 model year, Honda delivered the first Element model to a customer.
It's a compact SUV based on the same platform as the Civic and has light offroading capabilities.
The most striking thing about it is the boxy shape of the car that gives the interior loads of space for both occupants and cargo.
Along the sides are bi-parting doors that provide easy access to the rear, ideal for getting odd-shaped objects into the car that a normal one would struggle with.
It only lasted until the 2011 model year with 325,000 being produced in its 8 years of production.
When the Element was being originally designed back in the late-1990s it was envisioned to be a combination of an SUV and pickup truck.
What was created was very similar to this original vision and at the rear of the Element are van-like doors that open outward.
You could only choose one engine, a 2.4-liter 4-cylinder mated to a manual or automatic transmission – powering just the front or all four wheels if upgraded to do so.
A system added by Honda called "Real Time 4WD" used hydraulic actuators to engage the four-wheel-drive system when the front-wheels lost traction.
In 2007 the car won the "Dog Car of the Year" award from a dog magazine for its easy access and features that make it ideal for owners of that pet.
To embrace this Honda launched an optional package that cost $1,000 and was available at dealerships which added several dog-friendly features.
Now owners of the Element could get a specifically-made ramp for the rear of the car as well as electric ventilation in the rear to improve the conditions for their canine friends.
Honda directed potential customers of the Element towards the HR-V subcompact crossover SUV once this car was discontinued in 2011.