Nissan Sentra Service Manuals
---
You can find 7 different repair/service/workshop manuals for the Nissan Sentra on this page that are in the PDF format, totally free of charge.
Yearly Sentra Service Manuals
The years available stretch from 1988 through to 2014 and to view the manual you just click the name.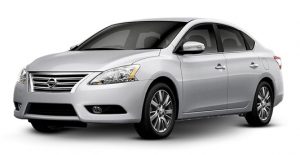 About The Nissan Sentra
The first Nissan Sentra models were produced in the early 1980s and were classed as subcompact cars.
This was the case until the late 1990s when it was reclassified as a compact car, with the current compact car (the Altima) bumping up to now be a mid-size car.
To fill the gap left by the original Sentra the Versa was introduced within a few years of the change.
This Versa was offered in a wide variety of styles all over the world, ranging from a small hatchback to a sedan with a protruding boot in the rear.
Nissan did this to carry on from the legacy that the Sentra had left behind, it was also offered in various styles and engine sizes.
Much like the rest of the Japanese company's range that choice of engine reduced as the years went by as they focused their efforts on a few economical engines.
Up until 2006 the Sentra was actually a rebadged version of the company's Sunny model but became its own true line that year.
In 2012 the production of the car was ramped up intensively, previously it was manufactured in just Mexico and Japan but now Nissan was making examples in eight different countries.
This coincided with the move of the car to the V platform that is shared with many other models including the Micra and Kicks.
The modern Nissan Sentra is offered as part of its eighth generation that was brought in for the first time in 2019.
It's the first Sentra not to be offered with a manual transmission or diesel-powered engine.
One major upgrade is the independent rear suspension that offers both better handling and ride comfort to the passengers inside.
It now sits on the CMF-C/D platform that is shared across various brands and is used by partnering company's Renault and Mitsubishi.