Nissan Altima Service Manuals
---
You can find 4 different repair/service/workshop manuals for the Nissan Altima on this page that are in the PDF format, totally free of charge.
Yearly Altima Service Manuals
The years available stretch from 2001 through to 2008 and to view the manual you just click the name.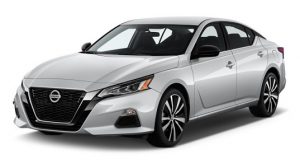 About The Nissan Altima
To replace the Bluebird model, Nissan introduced the Altima as its new compact car offering in the early 1990s.
The Bluebird had been running since the mid-1950s as the Japanese automaker's first compact car to compete in the rapidly growing segment.
This Altima model sat in the Nissan lineup between the slightly smaller subcompact Sentra and the larger Maxima, a car that sits in the "mid-size" segment.
In the late 1990s, the Altima grew into the mid-size car category as the inclusion of new comfort and safety features forced it to grow in size.
For the first four generations that the car was on sale, it was assembled and sold primarily in the North American region but that changed in 2013.
From 2013 onward the company opened up production in China, Japan, Russia Thailand and Malaysia with sales occurring globally.
This new model was built on the D platform that is shared with many other models including the Quest and Murano to name a few.
Technology was far superior now that the company was focusing its resources on this one platform to be shared across many lines.
You could choose to have a CVT carry the power from the engine to the wheels for the first time and inside of the car were new features such as a smart key that started the car from your pocket.
The most recent version of the Nissan Altima (sixth-generation) was introduced in 2018 and offered with the choice of one of two gasoline engines and just one transmission, a CVT.
Customers could opt for one of the following trims to adjust the level of features and luxury: S, SR, SV, SL, and Platinum.
This new Altima also boasts semi-autonomous driving capabilities using the Nissan ProPilot Assist system like the Rogue and Leaf.