Dodge Dart Service Manuals
---
We are looking to find workshop/repair/service manuals for this car and will add them when we find them.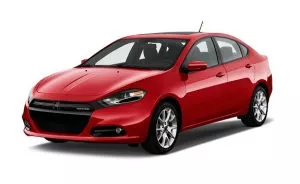 About The Dodge Dart
The Dodge Dart nameplate has had a long life that started out in the late 1950s when it entered the automobile world as a full-size car.
It lasted just 2 years in this classification before it was shrunk into a mid-size car as the company responded to rumors that other American automakers were doing the same.
Just 1 year later the company shrank the model once more into the compact car segment while extending the wheelbase to give the car more room inside.
The Dart stayed like this until the mid-1970s when it was discontinued and replaced briefly by the Aspen for 4 years and then the Aries after that.
The Revived Dart Name
The owner's manuals on this site are for the revived Dart model that came back using the model name in the 2013 model year.
It came back in the compact car segment it left in and sat on the Fiat Compact platform that is also used on the modern Jeep Cherokee crossover SUV.
You can buy this new version of the Dart as a 4-door sedan or 5-door hatchback that is called the Fiat Ottimo.
This model was brought back to life as a replacement for the Neon and Caliber compact cars.
In terms of engine, you can opt for a 2 or 2.4-liter naturally-aspirated setup or a 1.4-liter turbocharged gasoline designed by Fiat.
The 2.4-liter engine is exclusively available with the SXT, Limited, GT and GT Sport trims – mated to either a manual or automatic transmission.
For safety, the car is kitted out with some of the best technology which saw it awarded an impressive score with both IIHS and NHTSA.
It features the basic driver-aids such as traction control and ABS but also comes with technology such as blind-spot monitoring and rear cross-path detection.